PTA Membership 2018-2019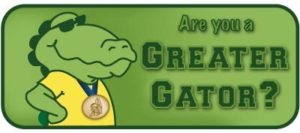 Join the PTA and donate today!
A Greater Gator is someone who completes four important transactions by Friday November 2nd, 2018. 
To make it easy, we have combined the first three items into one page. MBEF annual donations must be made directly to MBEF to qualify for Greater Gator status. 
There are two donation levels: the Greater Gator and the Golden Gator. Both of these donation levels must complete all four transactions below, but they differ in the way your family chooses to contribute to the PTA and MBEF.
The Greater Gator contributes to the PTA in any amount that you would like to above the $15 per parent membership dues, and also contributes to MBEF at any amount level.
The Golden Gator will donate the ask amounts for both PTA ($350 per student) and MBEF ($1,750 per student). Remember that MBEF donations need only be pledged by Friday November 2nd, 2018.
All Greater Gators get their family's name and year painted on the Greater Gator Wall of Fame on the Upper Playground, as well as an exclusive Greater Gator Car Magnet. The Golden Gator will receive both of those items plus a Golden Gator S'well Bottle.
1. Join the PTA and Donate The Grand View PTA operates on a tight budget and spends well over $450 per child. It is critical that every family contributes at a level meaningful to them. The PTA will fund more than $350,000 in 2018-19 for all students' back-to-school supplies, technology enhancements, curriculum enrichment, assemblies, student organizations, field trips and much more! And remember, everyone who joins the PTA for just $15 per student plus any donation gets exclusive access to our online Student Directory.

Golden Supporter


Silver Supporter

Full ask – $350 per student

This is Grand View's circle of strongest supporters.  These supporters allow us to fund enrichment programs and go above and beyond so our children can have a quality education.

$250 per student

Grand View's circle of supporters are the foundation of the PTA membership drive. A family who gives any amount grants the PTA the ability to fund many of the PTA programs and materials enjoyed by our students.
New this year:
All parents will be required to select at least one volunteer option for the school year. There are an assortment of options for every level of time commitment including shifts in the evening, on weekends, or during the school day. Thank you in advance for giving back to Grand View!
 View descriptions of all volunteer opportunities.
Additional Donation:
If one of the donation levels above does not suit you, or if you would like to give more, please donate any amount. PLEASE ALSO REMEMBER TO JOIN PTA ABOVE.
2. Purchase Yearbooks:
Get your child's 100+ page, full-color yearbook, bound in a beautiful, custom designed hardcover now at an extra low price — only $30 per yearbook. Greater Gators purchase a yearbook for each of their children, because Grand View students can't wait to get their yearbooks and collect signatures in their classrooms at the end of the school year.
3. Classroom Fund
Classroom Funds are the monies utilized by Room Parents throughout the school year to pay for things like class holiday parties, teacher gifts, classroom door decorations, etc.  In previous years the funds were collected directly through Room Parents, but this year we simplified the process so you only need to make a single payment.  The amount requested for Classroom Funds varies by grade due to differing class sizes. 5th grade costs are a bit higher based on the increased number of activities related to Promotion, Oscars, etc.

4. Make Your Annual Donation to MBEF


Small class sizes. Librarians. P.E. teachers. Advisors. Music teachers. Science Teachers. You won't find them in this year's state budget. You will find them in Manhattan Beach schools. Thanks to your generous donations last year, MBEF raised enough money to maintain our high-quality programs and the quality teachers that allow our district to be ranked THIRD in the State. And the drive continues. Better schools. Better communities. Is there a better reason? This donation must be made directly to MBEF, so visit the MBEF website to make your donation by November 2nd, 2018 to complete your Greater Gator membership with any donation amount, or become a Golden Gator by giving the MBEF ask of $1,750 per student.
Corporate Matching
Corporate Matching Gifts are an easy way to contribute to your child's education. Here is a list of local companies that have previously participated. If your employer has a Corporate Matching Gift Program, Grand View's Tax ID number is #95-6204597. You may have your company representative send an e-mail to Rebecca Kelley if they need any other information.